Participants at the NEPCon FSC Expert Training courses held in May in Kuala Lumpur found the session well-structured and rich in content.
More than a dozen from government bodies, non-governmental organisations (NGOs) and business sectors took part in a three-day FSC Chain of Custody Expert course (15-17 May), and a five-day FSC Forest Management Expert course held (21-25 May) in Kuala Lumpur.
The FSC Chain of Custody Expert course with modules such as contents of the main standard FSC-STD-40-004 V3-0, FSC Controlled Wood concept and related standard, sourcing of reclaimed material, evaluation of conformance and project certification, received positive responses from participants from several Asian countries including Thailand, Singapore, Indonesia, India, and Malaysia.
Meanwhile, participants from various sectors in Malaysia seized the opportunity to enhance their understanding of FSC Forest Management standards with new modules such as Free, Prior and Informed Consent (FPIC), gender equality, and living wages.
 
Instructional materials are educational
Indonesian participant, Een Nuraeni, who is an auditor, is delighted to have participated in the FSC Chain of Custody Expert course as the learning modules based on Chain of Custody Certification FSC-STD-40-004 V3-0 had provided her with new information.
"The new materials are useful especially for auditors who would like to refresh their knowledge," she said.
Roongreang Poolsiri from Thailand decided to join the FSC Chain of Custody Expert course following his participation in the FSC Forest Management Expert course in Bogor, Indonesia, last year.
"I would like to impart and share the newly gained knowledge back in my home country," said the lecturer from the Faculty of Forestry, Kasetsart University, Thailand.
This course was conducted by NEPCon Traceability Programme Manager, Roman Polyachenko, and Lead Auditor (FSC Forest Management and Chain of Custody) Malory Weston.
 
Hands-on role play activities
The FSC Forest Management Expert course went into high gear as participants were given an opportunity to role play what they learned about interview skills and producing an audit plan, as well as tips to conduct opening and closing meetings.
Participants had to do some creative thinking and worked together in various activities and role play exercises.
During the role play exercises, participants were put in different scenarios and asked to conduct opening and closing meetings with forest managers and stakeholders, roles played by the trainers.
They were also asked to wrap up on the audit plan prepared, by applying theories, principles and methods to practice.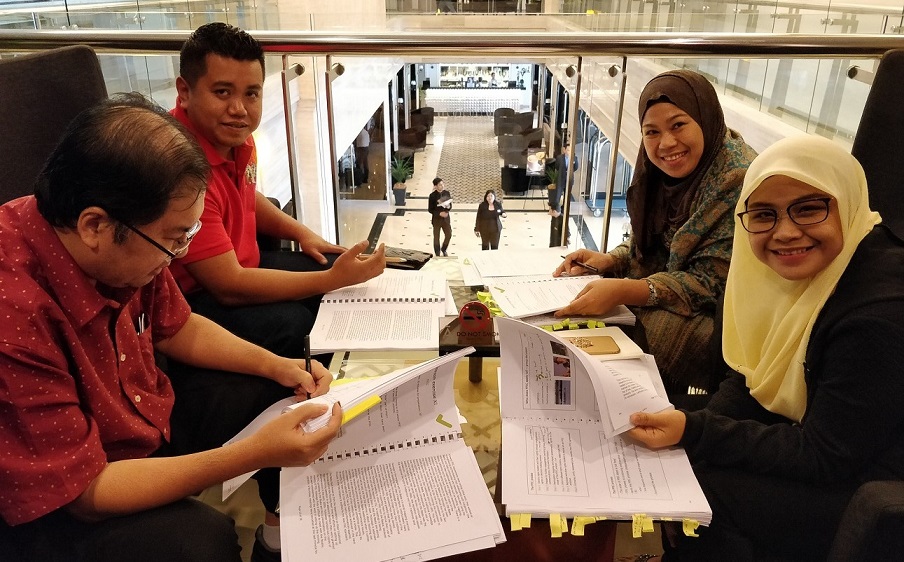 Sabah Forestry Department, Malaysia, Assistant Forest Conservation Officer Sitti Khadizah Abdul Kadir and WWF-Malaysia, Forest Conservation Officer Azad Janggil Abdullah said the interview skills learned from the course gave them a better understanding on the importance of asking the right questions during an audit plan.
"We are able to put our theoretical knowledge into practice through role playing exercises. Overall, we find the exercises given by the trainers are useful," said Azad.
The FSC Forest Management Expert course was delivered by Malory and Keith Moore, an independent forestry consultant with long experience in FSC.
 
Free online training
Both FSC Forest Management and Chain of Custody Expert courses include an online component, consisting of recorded webinars, and readings and quizzes. Registered participants are required to complete these components before the main classroom courses.
Following our Open Source Policy, we have made all our online training content available for free. All participants need to do is to register on our Online Training Hub and learners will have access to all of these materials.
 
Upcoming FSC Expert Training Courses
NEPCon offers FSC Forest Management and Chain of Custody Expert Training courses offered in various locations. Our complete 2018 Training Calendar is available at https://www.nepcon.org/training.