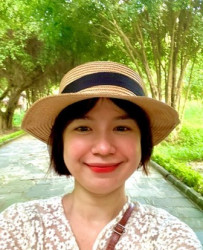 Nguyen Thi Kieu Oanh
Finance & Accounting Specialist
ntkoanh@preferredbynature.org
+84906648695
ntkoanh107
Oanh's main tasks revolve around supporting Danish entities in terms of overall financial processes and management in a wide range of accounting tasks. This covers invoicing, following up with the AR status to clients and processing the corporate credit card expense reports.
I was impressed by Preferred by Nature's vision that supports humans to build a sustainable future and protect nature.
Oanh has over six years of experience in the Finance and Accounting field. In her previous position, Oanh was involved in controlling both international and domestic payments to ensure timely payments on all invoices.
Besides that, Oanh has assisted the direct manager in controlling expense spending to ensure efficiency and that they stay under budget. She also has experience in providing accounting reports. 
Oanh graduated with a bachelor's degree in accounting from the University of Economics Ho Chi Minh City, Vietnam.
Skills at a glance
Bachelor's degree in Accounting
More than 6 years of experience in Finance and Accounting
Languages spoken: Vietnamese and English