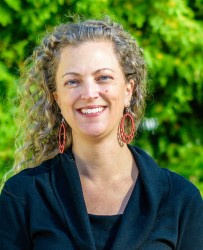 Laura Terrall Kohler
lkohler@preferredbynature.org
+1 503 758 3054
+1 503 758 3054
lauracoc
Laura leads the Assurance division which is responsible for Preferred by Nature's certification and auditing services delivered by regional teams and partners across six continents. 
Having a positive impact starts with forming partnerships. Preferred by Nature´s approach towards achieving its mission has a foundation in building and sustaining relationships across certification clients, scheme/standard owners, global and local stakeholders, content experts, and our regionally-based partners on the ground. Having this solid network is essential for our work to have lasting results, and I am proud to be part of this sustainability alliance.
As director of Preferred by Nature's Assurance division, Laura Terrall Kohler oversees our worldwide delivery of forestry, agriculture, traceability/chain of custody, and tourism auditing programs. 
Laura has been working in sustainability certification since 2000, and has extensive experience across standards development, auditing systems and training, third-party accreditation, and quality management.  Starting as a certification client manager in 2000, she supported participation and value in certification programmes by identifying specific client needs to ensure a comprehensive audit experience. She then moved into quality assurance management, training and certification systems development.   
Laura has a BSc in Biology from Southern Oregon University, and has successfully completed ISO 9001 Quality Management Systems Lead Auditor training. She has experience as a lead auditor for Chain of Custody and Controlled Wood, and internal quality control.   
Laura is based in Portland, Oregon. She joined Preferred by Nature in 2018.
Skills at a glance
Management of business and service delivery 
Quality management systems 

Project management  

Standard development and technical working groups 

BSc in Biology 

Languages spoken: English