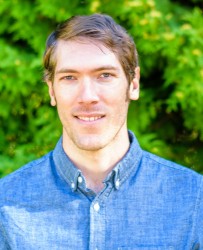 Klaus Geiger
Forest Management and Chain of Custody Associate
kgeiger@preferredbynature.org
Klg4g5
Klaus coordinates and manages the execution of Forest Stewardship Council FM & CoC across the United States. He oversees all aspects of FM certification pre-assessment, assessments and audits including scheduling, project management, customer service, auditor management and quality control for his portfolio.
It is exciting and pleasing to witness sustainable forest management on the ground in a diverse array of ecosystems and the manufacturing processes that follow--none of it would be possible without the earnest commitment and technical prowess of the companies and individuals who implement it!
Klaus Geiger is a forester with professional experience throughout the Americas.
Prior to working at Preferred by Nature, Klaus began auditing for Rainforest Alliance in 2015 as a Carbon Projects Auditor, for which he audited forest carbon projects under six different carbon standards, including AFOLU and REDD+ projects. In March 2017, Klaus began auditing Forest Management and Chain of Custody systems under the FSC. 
Klaus has researched Sri-Lankan non-timber forest products by documenting species composition and mapping spatial distribution in traditional agroforestry gardens, co-managed the 8,000-acre FSC certified Yale School Forest, promoted sustainable agriculture techniques for over three years with the Peace Corps in Panama, and, among other experiences, cruised timber with the U.S. Forest Service in Tahoe National Park.
Klaus received his Masters of Forestry from the Yale University School of Forestry and Environmental Studies, and holds a Bachelors of Forestry from the University of Missouri-Columbia. He speaks fluent Spanish. 
Klaus joined Preferred by Nature in 2018.
Skills at a glance
FSC Forest Management and Chain of Custody auditing

Ecosystem services technical support/expertise 

BSc and Masters in Forest Management