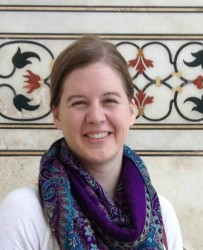 Gweneth Langdon
Senior Manager, Tailored Sustainability Services
glangdon@preferredbynature.org
gweneth812
Gweneth supports the management of Preferred by Nature's Projects and Solutions division, which supports businesses' efforts towards sustainable sourcing practices on a global level.
I am extremely grateful to partner with leading companies and organisations around the globe to design and implement business practices that positively impact people and the planet.
Gweneth is a Senior Manager of Preferred by Nature's Tailored Services, which provides corporate assurance, supply chain risk assessments and sustainability auditing. Gweneth has 13 years of experience in sustainability services, working in over 15 countries in both the forestry and agriculture sectors. This experience includes auditing companies to various chain of custody and sourcing standards.

Prior to working at Preferred by Nature, Gweneth worked for the Rainforest Alliance Certification Division where she managed their global Chain of Custody (CoC) and Controlled Wood (CW) accreditations, maintaining and updating operating procedures and implementing the certification division's quality assurance system.  

Gweneth represents Preferred by Nature in various global initiatives that include the Accountability Framework Initiative (AFi), the Global Platform for Sustainable Natural Rubber Platform (GPSNR) and the CanopyStyle Auditing Program. 

Gweneth joined Preferred by Nature in 2018. 
Skills at a glance
Traceability and Transparency
Supply Chain Monitoring and Verification
Quality management systems
Risk assessment and mitigation
Standard development
Experienced trainer
Proficient in English