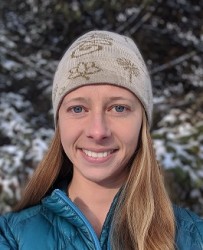 Carolyn Loeb
cloeb@preferredbynature.org
(802) 434-3420
(802) 829-3306
carolyn.loeb
Carolyn is a field ecologist specialising in forests of the northeastern United States. She oversees Forest Stewardship Council Forest Management and Chain of Custody certification activities for a subset of Preferred by Nature's US clients.
I believe that ecologically sound, economically viable, and socially conscious utilization of working landscapes is crucial to humanity's future on Earth. I am delighted to have the opportunity to support clients' commitments to translating these big ideas into their day-to-day forestry and supply chain management practices.
Carolyn is an auditor-in-training for FSC Forest Management certification, from pre-assessments to assessments, and annual audits. Her duties as a Preferred by Nature point of contact for Forest Management and Chain of Custody clients also include audit scheduling, budgeting, management, quality control, and customer service.
Prior to working at Preferred by Nature, Carolyn held positions as an ecological consultant, naturalist, National Park Service park ranger, environmental science educator, and a research assistant. Her graduate consulting work tasked her with helping private landowners meet their personal goals while engaging in ecologically sound management of their working landscapes.
Carolyn holds a Master of Science from the University of Vermont's Field Naturalist Program and a Bachelor of Arts from Macalester College in Environmental Studies (Ecology Focus). An avid traveller, she has lived in four continents and speaks conversational French and Spanish.
Carolyn joined Preferred by Nature in 2019.
Skills at a glance
Field ecologist with an academic grounding in silviculture

Forest Stewardship Council Forest Management auditor-in-training

MSc in Field Naturalist Program,

BA in Environmental Studies (Ecology Focus)

Languages spoken: English, conversational French & Spanish