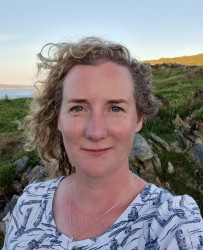 Ciara McCarthy
cmccarthy@preferredbynature.org
+ 44 (0) 7551595911
ciaramac1_2
Ciara is a Biofuels specialist and sits within the Climate Team. Additionally, Ciara assists with Responsible sourcing for the Projects and Solutions team. 
Ciara is the lead for our Roundtable on Sustainable Biomaterials (RSB) program, and a team member of both our Bonsucro and Carbon services programmes. 
I am pleased to be working with an organisation that is making true and credible on-the-ground impact through partnering with global leading organisations to reduce carbon footprints, increase climate change mitigation awareness and to seek successful delivery of the UN Sustainable Development Goals (SDGs).
Ciara joined Preferred by Nature in 2021 adding to our strong professional sustainable forestry & biomass experience. Her forestry portfolio includes operations, data collection, GIS and remote sensing, risk management, project management, contract management, regulatory review, policy development, development and implementation of strategic plans, stakeholder management, education, compliance and certification.
Ciara is a qualified senior lead auditor for FSC, PEFC, SFI, SBP and RW Chain of Custody and Forest Management.
 
Skills at a glance
Certification standard development and system engagement
FSC, PEFC, RSB and SBP
Forest management and chain of custody auditing, standard field testing
Service development
Accreditation and assurance systems
Training course development, delivery and facilitation – FSC Chain of Custody, Controlled Wood and Forest Management; SBP; Risk Assessments and Due Diligence Systems
Management of business and service delivery – project and budget management
BSc (Hons) Forest Management and Agroforestry; MSc Climate Change and Development; Graduate Certificate in Urban Forestry and Peri-Urban Forestry Systems
Over 15 years forest management and forest products industry experience
Countries worked in: Australia, Bulgaria, Canada, Finland, Ghana, Indonesia, Japan, Latvia, Malaysia, New Zealand, Republic of Ireland, Sweden, United Kingdom, and United States
Languages spoken: English and Gaelic