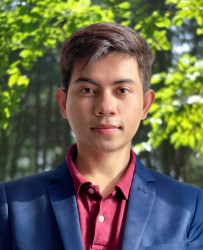 Nadthanan Junpratug (Dom)
Regional Representative, Thailand
njunpratug@preferredbynature.org
+66863875671
u.domdam
Dom is working as a Market and Development Specialist of Preferred by Nature in Thailand. His responsibility is to lead Preferred by Nature's vision by developing market strategies and implementation, business communication, certification management and audit to support the business operators by the way of sustainability practice in the Land of a Thousand Smiles.
Sustainability is our responsibility. Let's take action to protect our planet and create a better future for all.
Prior to joining Preferred by Nature, Dom had over three years of experience in the certification industry in Thailand. He supported sustainable agriculture standards, including Sustainable Rice Platform (SRP), GLOBALG.A.P., Forest Stewardship CouncilTM (FSCTM), Fairtrade USA, and Private Standards verification, as an auditor, standard expert, and customer support professional. Dom's role involved providing knowledge and support related to standard services.
Now, as a part of Preferred by Nature, Dom is responsible for developing market strategies, maintaining client relationships, and supporting certification, training, and other services in Thailand. He specialises in various standards such as FSC, SRP, RSPO, RA, GLOBALG.A.P., Carbon Footprint Management (CFM), and more. Dom's services are tailored to meet the specific needs of clients. Additionally, he holds the position of Legal Entity Representative for Preferred by Nature's Thailand office.
Dom joined Preferred by Nature in 2023.
Skills at a glance
Sustainable Rice Platform (SRP) authorised trainer for Standard and Indicator and Chain of Custody.
Suatainable Rice platform (SRP) approved auditor.
GLOBALG.A.P. IFA v5 auditor.
Bsc. Biotechnology in Agro-Inductry.
Language spoken: Thai and English