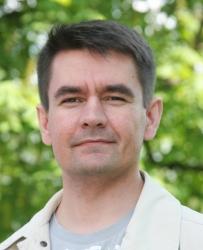 Valeriy Magda
vmagda@preferredbynature.org
+7 913 172 19 78
valmagda
Valeriy is an FSC Forest Management Lead Auditor with experience in forest ecology and conservation.
Working in Preferred by Nature provides an opportunity to contribute my scientific and conservation experience to secure responsible use of the forests with benefit to local communities, forest workers and wildlife.
Valeriy works as FSC and PEFC Forest Management (FM) Lead Auditor in Preferred by Nature Russian office, where he conducts FSC FM and Chain of Custody (CoC) audits in European and Asian part of Russia. 
Valeriy has a previous experience as a researcher in a scientific institution. He also has gained conservation experience as a project coordinator in an NGO, where he got introduced to the FSC system.
He holds a PhD in Forest Ecology and has passed Preferred by Nature's FSC and PEFC FM, CoC, LegalSource and ISO 14001 Lead Auditor courses.
Valeriy joined Preferred by Nature in 2010. 
Skills at a glance
FSC Forest Management lead auditing
Chain of Custody lead auditing 
PhD in Forest Ecology
Languages spoken: Russian, English