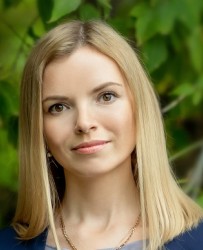 Nadezhda Antipovskaya
Marketing and Revenue Accounting Manager
nantipovskaya@preferredbynature.org
+79 6710 98050
cid.2aa77d5cae53000c
Nadezhda supports the market development department as well as the administration and finance team in Preferred by Nature.
When I graduated from university in 2005, I reflected the importance of FSC certification. Back then in Russia, there were few certified forests. Now I am glad that the situation has been changed for the better. I am happy to be part of a large multicultural team which makes the world a better place and strengthens environmental responsibility.
Nadezhda is responsible for all marketing and revenue accounting issues. She maintains records on contracts and related information in our electronic databases - SF, 1C, etc. Nadezhda also supports for other tasks – maintaining and managing social networks, regional news and technical promotion of Preferred by Nature on search engines.
In 2005, Nadezhda graduated from the University, Faculty of Economics, specializing in economics and management at a forestry enterprise. In 2006, she received the qualification of a financial auditor. Nadezhda has experience in a logging enterprise. She also has experience in marketing and many different skills in various types of activities such as photography and working on a website.  
Nadezhda joined NEPCon in 2020.
Skills at a glance
Marketing experience

Development of regulations

Experience with contracts and clients

W

ork experience of the deputy chief accountant

Preparation of management reports

Experience with web development languages 

​​

HTML and CSS

Experience in various programs such as Photoshop and Lightroom

Languages spoken: Russian and English