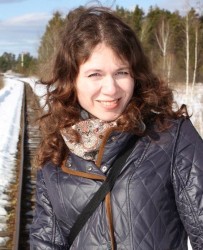 Anna Repina
arepina@preferredbynature.org
+7 9118713118
+7 9118713118
arhbutzefal
Anna manages and conducts FSC Chain of Custody and Forest Management audits in Russia.
It is highly important to have a deep understanding of the economic and political institutions that govern, and the cultural backgrounds and values of its citizens. The mission and goals of Preferred by Nature are close to me in spirit and I am confident that I can use my knowledge and experience in solving important social and economic challenges.
As a mother of 3, I must think about their future on our planet. I truly believe that only we and not someone after us should take responsibility for the state of natural resources and the environment of our planet.
She holds university degrees in Management and Law. Before joining Preferred by Nature, Anna worked for more than 10 years as a regional specialist for the Timber Industry Department and the Ministry of Natural Resources and Forest Industry of the Arkhangelsk Region. She has extensive experience with legality and social aspects in the Russian forest sector.
Anna joined Preferred by Nature in 2019.
Skills at a glance
FSC Chain of Custody auditing

FSC Forest Management auditing

Knowledge of the Russian Federation legislation, specialization in labour law, ensuring the rights of the native and local population, labour protection

Experience in practical work with native and local communities, non-profit organisations, state and local authorities to resolve conflict situations

Languages spoken: Russian and English