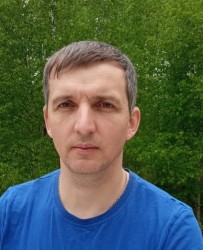 Andrey Fisyuk
afisyuk@preferredbynature.org
fisiuk69
Andrey is certified as an auditor in the main and annual forest management assessments of FSC and PSC conducted by Preferred by Nature in Russia.
Working at Preferred by Nature will allow me to contribute to the development of environmental and social sustainability of forest organisations. The job will give me the opportunity to share my experience, as well as improve my qualifications, knowledge and skills.
As an auditor in Preferred by Nature, Andrey's work is related to the assessment of the organisation's compliance with the requirements of the forest management standard. The assessment includes: checking the organisation's documentation; checking compliance with the legislation of the Russian Federation; visiting sites managed by the organisation; checking the instructions developed by the organisation.
Skills at a glance
In 2005, graduated from St-Petersburg State Forest Technical Academy", qualification:  engineer, specialty "Forestry and aesthetic forestry".
From 2004 to 2021, he worked in the branch of the Federal Budget Institution "Russian Forest Protection Center" - "Forest Protection Center of the Tver region". Responsibilities included: organising and conducting state forest pathology monitoring, organising and conducting forest pathology surveys, assigning sanitary measures, conducting forest pathology examinations.