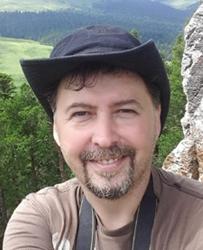 Alexey Tyusov
atyusov@preferredbynature.org
+79 201505771
Alexey Tyusov
Alexey works as FSC and PEFC Forest Management Lead Auditor at our Russian office.
I have experience as a university lecturer and scientist in the field of biodiversity research and conservation. Working in Preferred by Nature is an opportunity to apply all my knowledge and skills for the development of sustainable and responsible nature management. 
Alexey joins us from Tver State University where he lectured, conducted training sessions and practices with the students in the Geography/Geoecology and the Biology Faculty since 1997. Beside these activities he has done research within the study and protection of species and landscape biodiversity.
Alexey holds a Ph.D. in Biology. He also has experience in applying GIS technologies and remote sensing data in various environmental projects. 
Alexey joined Preferred by Nature in 2017.
Skills at a glance
FSC and PEFC Forest Management auditing
Chain of Custody auditing 
GIS, remote sensing, spatial analyst
PhD in Biology
Languages spoken: Russian, English