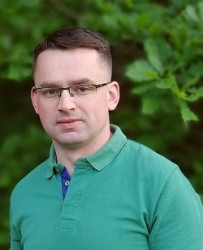 Paweł Synowiec
psynowiec@preferredbynature.org
+48 603 416 700
pawwel.synowiec@gmail.com
Paweł is responsible for planning, conducting and administering FSC and PEFC Chain of Custody audits, as well as FSC Forest Management audits in Poland
I care about the forests and the biodiversity associated with them, and I believe that certification is an important tool to protect it. Working in Preferred by Nature I contribute to the sustainable use of forest resources and wood as a product. I am convinced that my work as a Traceability Auditor is beneficial to both the environment and to people.
Paweł's primary responsibilities include planning and conducting FSC Forest Management (FM) and FSC and PEFC Chain of Custody audits in Poland.
After completing his studies, Paweł worked as a trainee for one year at State Forests in Poland.
Then, for 9 years, he was employed in the Regional Directorate for Environmental Protection as a Specialist in the protection of nature and Natura 2000 areas. From 2011 to 2018 Pawel also worked with Preferred by Nature as an FSC FM consultant, performing FSC FM certification audits in Poland.
Paweł holds a Master's degree in Forest Management from the University of Agriculture in Kraków. He has completed many trainings in the field of nature conservation and several trainings in the field of GIS (Geographic Information System). He passed Preferred by Nature's FSC FM training course in 2018. 
Paweł joined Preferred by Nature in 2018.
Skills at a glance
FSC and PEFC Chain of Custody audits

FSC Forest Management audits

Extensive experience in nature conservation

Experience in forest management in Poland

Master's degree in Forest Management

Languages spoken: Polish, English, Russian