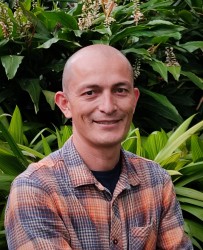 Sergio Pablo Aja Navarro
Sustainable Travel Specialist
saja@preferredbynature.org
+51945793515
sergioaja
As a Sustainable Travel Specialist, Sergio contributes as an auditor and manager of the South American and Caribbean region's client portfolio. He provides support to current clients embarking on the path of tourism sustainability and attracts new companies that want to join the route while jointly inspiring others to have resilient destinations, which generate pride in their residents and their visitors.
A good part of Sergio's work consist of influencing the decisions of today's tourism companies to guarantee a prosperous tourism in the future, one that is economically viable, responsible with biodiversity and harmonious with society and all its expressions.
Tourism sustainability is somewhat utopian until someone consciously decides to go for it, measuring, adjusting, adapting and sharing their experience with others. It motivates me to know that I am part of a group of people who believe and strive daily to promote business and life practices that help us achieve better tourism and a better world.
Sergio serves as a client portfolio manager for the regions of South America and the Caribbean. His role involves providing high quality client care and customer support. Sergio also serves as a lead auditor, auditor, RRA reviewer along with other supporting roles.
Aside that, Sergio manages the implementation of the annual audit calendar and assurance services while supporting Market, Development & Communication initiatives. Along with his day-to-day tasks, Sergio also contributes in the expansion of the Preferred by Nature Sustainable Travel Programme (STP).
Skills at a glance
Sustainable tourism and development specialist.
Managing of sustainable tourism projects with the participation of communities, companies, the public sector, NGOs and academia from Central and South America.
Worked in the most important conservation and tourism organizations and in world-renowned destinations along Latin America.
More than 6 years, knowledge and experiences with young people as a university professor.
Published manuals to promote sustainable practices in the tourism sector.
Participated as an auditor of tourism companies.
Professional traveler and amateur photographer.
Proficient in Spanish, French and English language.