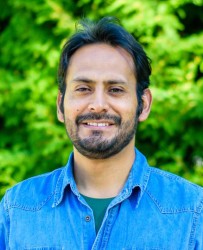 Hebert W. Flores V.
Agriculture Services Associate
hflores@preferredbynature.org
+51949710677
hebert.flores.vilchez
Hebert is responsible for scheduling RA Sustainable Agriculture auditing activities in the following countries in South America - Argentina, Bolivia, Chile, Ecuador and Peru.
My preparation as a (forest) engineer and my interest in ecology makes the work that I do at Preferred by Nature rewarding because, through certification, we promote sustainable businesses in the agro-industry.
His other duties include:
Carrying out audits

Scheduling and monitoring auditing processes for RA Sustainable Agriculture and Chain of Custody in South America

Reviewing audit reports

Managing client relations

Providing training to clients on current certification rules and regulations

Coordinating and providing support to the region's senior manager in planning strategies to improve services and expand clients' portfolio
Hebert also represents our legal entity in Peru, NEPCon Peru SAC. Prior to joining Preferred by Nature, he worked as an independent consultant for Rainforest Alliance from 2007 to 2012 and thereafter, transitioned as full-time staff for the organisation.  
He holds an Engineering Degree from the National University of Trujillo, Peru. He is a Workplace Safety and Security specialist.
Hebert joined Preferred by Nature in 2018.
Skills at a glance
Rainforest Alliance Sustainable Agriculture and Chain of Custody auditing

Creator of public investment projects

Well-versed in workplace safety and security risk assessment

Languages spoken: Spanish and English