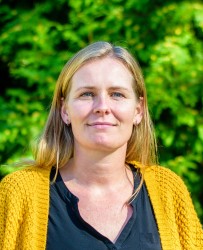 Debora van Boven-Flier
Country manager for The Netherlands
Sustainable Agriculture Programme Specialist
dvanboven@preferredbynature.org
+31 6 19 17 77 49
dvanboven
Debora fulfils two roles within Preferred by Nature. She is responsible for the coordination and execution of Preferred by Nature's services in the Netherlands, Belgium and Luxembourg. Debora is also our Programme Specialist for sustainable agriculture in which she is responsible for the technical support for the programmes of Rainforest Alliance Sustainable Agriculture and Round Table on Sustainable Palm Oil (RSPO). 
Being part of important processes to keep our forests standing means the world to me. Timber certification, the EUTR and FLEGT are key instruments in achieving this. Being able to do this on a country scale, together with our clients, makes my favourite saying 'think global, act local' part of my everyday life.
Debora has wide range of certification experience from various certification schemes, including FSC, PEFC, Rainforest Alliance Sustainable Agriculture (former SAN), RSPO, Sustainable Biomass Program (SBP) and Preferred by Nature own LegalSource system. As a timber legality expert, she is regularly involved in a variety of assignments including analytical work, projects, training and development of Preferred by Nature's timber legality tools and systems. 
Prior to working at Preferred by Nature, Debora's professional experience encompasses seven years as Senior Forestry Consultant at FORM International, where she was engaged in PEFC conformity assessments and involved in international projects on FLEGT and FSC certification. Her past work record also includes FSC auditing work and advisory services for companies preparing for FSC Chain of Custody certification.
She holds a Master's degree in Tropical Forestry from the Dutch Wageningen University and Research Centre. She has passed Preferred by Nature's FSC Lead Auditor and LegalSource Auditor courses. 
Debora joined Preferred by Nature in 2011. Prior to this, she had been providing auditing services on behalf of Preferred by Nature since 2008. 
Skills at a glance
Business management
Service promotion and market development 
FSC and PEFC Chain of Custody certification
SAN / Rainforest Alliance Chain of Custody certification
LegalSource evaluations
Expertise on the EUTR and FLEGT 
Sustainable forest management standards and their implementation
MSc in Tropical Forestry
Countries worked in: the Netherlands, Ghana, Suriname, Georgia, Ukraine
Languages spoken: Dutch and English