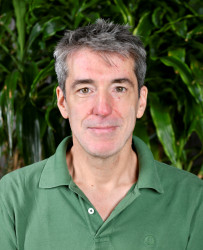 David Hadley Garcia
Regulatory Impact Programme Director
dhadley@preferredbynature.org
+34 682 88 31 37
davidhadleygarcia1
David leads Preferred by Nature's Regulatory Impact Programme, the goals of which are to ensure positive impacts within the landscape of regulatory and policy compliance. 
He also supports our Sustainability Advisory division, covering our due diligence services for forest-impact commodities.
The arrival of the EU Deforestation Regulation has marked a critical milestone in the development and evolution of sustainability in the forestry and agriculture sectors. Its arrival – with other proposed legislative measures in the pipeline – also consolidates a global trend in corporate due diligence as it relates to forest-impact commodities.
Drawing on a master's degree in Forestry and 15 years of experience, David's role as Programme Director entails working to achieve the goals of the Regulatory Impact Programme, namely:
Keeping stakeholders informed about key policies and regulations that affect them;
Supporting stakeholders with guidance, tools and solutions that are effective and which promote positive outcomes;
Contributing our expertise and knowledge, where possible, to influence and support the development of practical and impactful legislation. 
David also supports the provision of advisory services to organisations, helping them to address challenges they experience in relation to responsible sourcing and supply chain risk management, on par with new legislation and market requirements. 
He contributes to Preferred by Nature's capacity building and training services as well as providing technical support to specific funded-projects. David speaks English and Spanish. 
Skills at a glance
Sustainability in the forestry and agriculture sectors, due diligence systems, risk management.  
EU Deforestation Regulation, EU Timber Regulation and other legislative and policy developments that promote sustainability in the forestry and agriculture sectors.
Project management and sustainability advisory 
Sustainability Framework technical support/expertise
Capacity building and training
Countries worked in: All Europe, China, Malaysia, Vietnam, Philippines, Solomon Islands, Ecuador, Honduras, Guatemala, Guyana, USA.
 Languages spoken: English and Spanish