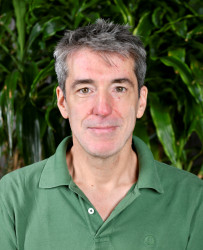 David Hadley Garcia
Senior Manager, Tailored Services
dhadley@preferredbynature.org
+34 682 88 31 37
davidhadleygarcia1
David supports the management of Preferred by Nature's Responsible Sourcing department, covering our due diligence services for forest-impact commodities. This includes the day-to-day management of Preferred by Nature's LegalSource services, as well as FSC Controlled Wood certification.
Despite its slow start, the arrival of the EU Timber Regulation marked a critical milestone in the development and evolution of the global forest-products industry. 2017/8 marks a notable step-change which consolidates a global trend in responsible sourcing and supply chain management, as they relate to forest-impact commodities.
Drawing on a Master's degree in Forestry and 15 years of experience in the forest sector, David provides legality and due diligence expertise to Preferred by Nature's global work in providing business solutions for responsible sourcing and supply chain risk management, on par with new legislation and market requirements. 
This includes engages with private sector organisations to support the provision of tailored solutions to challenges they experience in relation to the sourcing wood products, covering topics such as EU FLEGT, EU Timber Regulation, US Lacey Act, due diligence systems and procurement policies. 
David also contributes to Preferred by Nature's capacity building and training services as well as providing technical support to specific funded-projects. 
David speaks English and Spanish. He joined Preferred by Nature in 2009.
Skills at a glance
Timber legality assurance and related due diligence systems, risk assessments and supply chain verification and management, traceability and auditing within the forest-sector.  
EU Timber Regulation, US Lacey Act and other legislative and policy developments with the aim of excluding illegal timber from specific markets such as the EU FLEGT programme
LegalSource and FSC CoC/Controlled Wood certification 
Approved Preferred by Nature Legality and FSC Controlled Wood trainer
15 years forest-products industry experience
Countries worked in: All Europe, China, Malaysia, Vietnam, Philippines, Solomon Islands, Ecuador, Honduras, Guatemala, Guyana, USA, Cameroon and Russia.
Languages spoken: English and Spanish