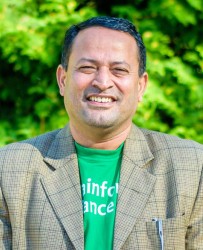 Indu Bikal Sapkota
Senior International Expert
Natural Rubber Commodity Lead
isapkota@preferredbynature.org
+977 9746492542
indubikalsapkota
Indu serves as the Senior Forestry Expert within the Preferred by Nature's Project and Solutions department. He is involved in supporting the delivery of our mission through corporate assurance, projects, and certification services. 
When I was working in the Rainforest Alliance, I have already met many Preferred by Nature colleagues, and we also completed some collaborative projects together, such as piloting ecosystem services initiative in Nepal and developing joint proposals for Indonesia FSC standards field testing and many more. I am highly impressed with Preferred by Nature colleagues, and the work the organisation has been doing on the sustainability front, so I am very happy to have this privilege to work with Preferred by Nature.
As a Senior Forestry Expert in Preferred by Nature, Indu supports the organisation's innovations and service delivery across different divisions. Within the Project and Solutions department, Indu delivers services to businesses while being involved in the delivery of work for donor-funded projects.
Aside from contributing to  Forest Stewardship Council (FSC) Forest Management certification work  in Asia and worldwide, Indu also acts as the  team leader for selected FSC Forest Management audits in Asia. So far, he has conducted several field audits for carbon validation standards and forest management in most of the Asia Pacific including Indonesia, China, Japan, Laos, Philippines, India, Sri Lanka, Nepal, Bangladesh, Papua New Guinea, and other countries. 
On top of that, Indu shares his expertise with the Strategy and Innovations team by supporting the development and service delivery under the Sustainability Framework Programme – with a focus on forest and timber-related commodities, including natural rubber. This includes framework adaptation, benchmarking with other standards, pilot testing, among other projects. Indu also brings his experience in ecosystem services and high conservation values to support Preferred by Nature's ecological restoration initiative. 
Prior to joining Preferred by Nature, Indu worked with the Rainforest Alliance from July 2009 to September 2018. In this position, he gained on-ground forestry auditing experiences in FSC forest management certification, carbon validation/verification and ecosystem services, piloting standards development and testing. Before this position, Indu had spent over 10 years working in forestry, non-timber forest products and conservation in Asia and Europe, including international organisations such as WWF and ANSAB. He has also contributed locally and internationally to a number of articles, research reports, study papers and proceedings. 
Indu holds an international Master of Science degree – with the top score in MSc in Tropical Forestry Programme – from Wageningen University,  and Research, the Netherlands; and a BSc Forestry degree – with a distinction and institute of Forestry top – from Tribhuvan University.
Indu acts as the Natural Rubber Commodity Lead for Preferred by Nature, representing the organisation in all aspects related to the commodity. His role involves advocating and facilitating the widespread adoption of sustainable practices in natural rubber production landscapes and supply chains. 
With extensive experience in the natural rubber sector, Indu possesses invaluable expertise and knowledge that provide deep insights into market trends and challenges. He takes the lead in driving our teams' efforts to make positive impacts, shape market practices and establish partnerships aimed at transforming the natural rubber sector at various levels.
Indu has been part of Preferred by Nature since October 2018.
Skills at a glance
FSC FM lead auditor, qualified witness auditor and reviewer, with experiences on auditing high-profile, high-visibility forestry operations in Asia Pacific 
Expertise in standards development, adaptation, benchmarking, pilot testing, and research 
Additional expertise on carbon validation/verification, ecosystems services, community forestry, training and facilitation, and stakeholders outreach and coordination  
Language spoken: English