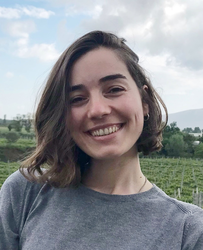 Narta Voca
nvoca@nepcon.org
+383 49 699 512
n.voca
Narta is responsible for conducting sustainable agriculture audits in various countries in Southeast Europe, and for supporting market development for Preferred by Nature certification services in the region.
My career goal is to contribute to improving the quality of food and life in my country, the region and potentially worldwide, while ensuring harmony with nature. I am committed to working in projects that encourage farmers, companies, governments, and other organisations to adopt practices that are environmentally sound, socially just and economically viable.
She began her career in the food industry in 2012, whereby she helped local food companies to establish and improve their quality assurance systems. She has worked on the development of industry-tailored training for individuals and organisations on different international standards related to food safety, occupational health and safety and environmental management. Her previous experience includes food safety audits and organic inspections.
Narta studied Food Engineering at Ege University in Turkey and completed a Master's degree in Organic Agriculture at Mediterranean Agronomic Institute of Bari, in Italy.
Narta joined Preferred by Nature in 2019.
Skills at a glance
Sustainable Value Chains

MSc in Organic Agriculture

Food Quality and Safety Management Systems (HACCP, ISO 22000, IFS Food, Organic Reg. (EC) 834/07)

BSc in Food Engineering

Languages spoken: English, Albanian and Turkish