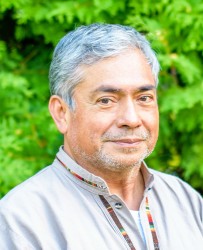 Zenaido Garnica Sánchez
Senior Manager, Forestry, Mesoamerica
zgarnica@nepcon.org
+52 951 209 3370
Zenaido60
Zenaido is responsible for the operations of NEPCon Mexico A.C. legal entity. He is also in-charge of NEPCon's certification and verification services, as well as other project activities in the region.
Forest management and certification process are the best ways to conserve the forest in Communities and Ejidos. (I'm glad to be able to) provide high quality chain of custody and sustainability solutions to diverse clients.
Zenaido has worked in RA for more than 12 years. In his previous role, he was responsible for all evaluation, audit, validation and verification procedures for forest management and chain of custody with FSC, Preventive Technical Audits (ATP) according to Mexican normativity and the Accreditation of NMX-143 for the National Certification of Mexico.
Before that, he was involved in forest inventories, conservation projects and teaching. He also worked with the Mexican Government. Zenaido has 37 years working experience with communities and Ejidos in temperate and tropical forest.
Zenaido joined NEPCon in 2018.
Skills at a glance
FSC FM and Chain of Custody auditing

FSC FM and CoC technical support/expertise 

BSc in Forestry and Forest Industry

Specialist in forest industries and natural resources

Languages spoken: Spanish and English