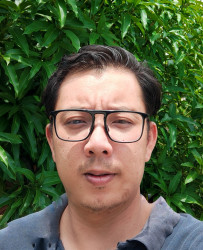 Nicholas Fong
Ecosystem Restoration Specialist
nfvuichik@preferredbynature.org
+60168427171
nickvcfong
Nicholas focuses on supporting the Strategy and Innovation Division's Ecosystem Restoration Programme in Asia and Southeast Asia. He is involved in overseeing all technical aspects of Ecosystem Restoration verification assessments, such as auditing, quality control, and customer service. 
I am highly motivated to work with Preferred by Nature because of the organisation's commitment to sustainable development and its mission to promote responsible business practices worldwide. I am passionate about protecting our planet's natural resources and believe that the private sector has a critical role to play in achieving a more sustainable future.
Preferred by Nature's reputation for excellence and innovation in sustainability certification and verification, particularly in the area of ecosystem restoration, is also a major attraction for me. I am excited about the opportunity to work with a team of experts who are making a real difference in the world by helping companies to reduce their environmental impact and improve their sustainability performance.
As an Ecosystem Restoration Specialist at Preferred by Nature, Nicholas' role involves actively engaging with stakeholders and organisations involved in ecosystem restoration. He is responsible for promoting the Preferred by Nature Ecosystem Restoration initiative and services to potential clients, including individuals and organisations participating in restoration funding projects.
Nicholas support the creation and maintenance of materials such as handbooks and instruction guides necessary to perform verifications, while assisting in developing and maintaining programme documents such as website content and templates.
Task management is a key responsibility for Nicholas as he is responsible for field auditing against the Ecosystem Restoration Standard. This involves contacting clients, programming, creating engagement, coordinating logistics, implementing and completing on-site work, and reporting.
He also supports the design and implementation of a restoration training programme, providing training and information to both Preferred by Nature staff and external individuals as required.
Working collaboratively with other functional areas across Preferred by Nature, Nicholas ensures strong stakeholder engagement, consistent communication, requirements accurately captured, and outputs delivered as planned. He also participates in projects and help develop new project concepts to further the Ecosystem Restoration initiative.
Skills at a glance
Project Management - including planning, coordination, and reporting
Geographic Information System (GIS) 
Communication and interpersonal skills, with the ability to engage effectively with stakeholders and organisations
HCV ALS Provisional Licensee