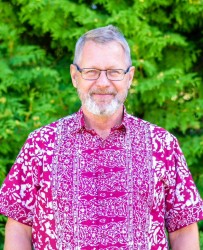 Christian Schriver
Regional Director, Southeast Asia
Palm Oil Commodity Lead
cschriver@preferredbynature.org
+(6)014 8676039
christianschriver
Chris has 30 years' experience working with conservation planning and results-oriented action. He has specialised in the interface between people, organisations and environment with a strong focus on capacity building and human resources development.
I believe in conserving our environment as this is our sustenance. I believe in working with people as people are the single largest influence on environment, and I believe in performance as it is our commitment, actions and results that count.
In addition to his conservation, training and certification services, he also provides internal organisational support to Preferred by Nature drawing on his extensive expertise in management and management development. 
He has worked in Southeast Asia for over 20 years as well as in Europe, Africa and North America. 
Chris holds a BSc in Forest Management and a Master's degree in Natural Resources and Environmental Management. In addition, he has passed the Preferred by Nature's Legal Source Expert Course for lead auditors. 
Christian acts as the Palm Oil Commodity Lead for Preferred by Nature, representing the organisation in all aspects related to the commodity. His role involves advocating and facilitating the widespread adoption of sustainable practices in palm oil production landscapes and supply chains. 
With extensive experience in the palm oil sector, Chris possesses invaluable expertise and knowledge that provide deep insights into market trends and challenges. He takes the lead in driving our teams' efforts to make positive impacts, shape market practices and establish partnerships aimed at transforming the palm oil sector at various levels.
Skills at a glance
Project planning and implementation
Training, in particular for management development and project planning using the Logical Framework Approach (LFA)
Capacity building - people, organisational and institutional performance
Human resources development 
Countries worked in: Malaysia, Indonesia, Cambodia, Myanmar, Vietnam, China, Thailand, India, Malawi, South Africa, Sudan, Canada, Denmark, Egypt, Italy, Romania, and Turkey
Languages spoken: English and Danish