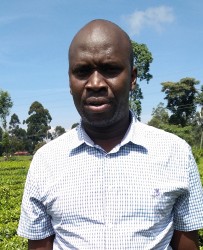 Raphael Ngetich
rngetich@preferredbynature.org
+254 713 665 165
raphael.ngetich
Raphael is responsible for delivering high quality audit services to current Rainforest Alliance Sustainable Agriculture Standard (SAS/UTZ) clients in East Africa. He oversees some of the East African clients by managing their SF database, conducts fieldwork audits and peer reviews and ensures that audits are done according to Preferred by Nature Internal Quality Assurance requirement and SAS and/or UTZ policies. 
The environment is where we all meet; where we all have a mutual interest; it is the one thing all of us share. I enjoy working with Preferred by Nature as an organisation that promotes environmental conservation and protection, sustainable agriculture as a way of improving livelihoods of communities around the world. I am proud to be part of this wonderful family.
Raphael started his career as an intern in the Ministry of Environment in 2008. He was trained as an environmental and social impact assessment expert and in this role, he carried out several impact assessments and baseline surveys for different sectors.
He received training in Social Accountability 8000 (SA8000) standard and certification and ETI base code (SMETA). He has auditing experience in the horticultural sector in East Africa. He is an experienced auditor auditing against the Rainforest Alliance Sustainable Agriculture/UTZ, Chain of Custody (CoC) and UTZ ChoC. Raphael also has experience as a Rainforest Alliance Sustainable Agriculture and Chain of Custody Report Reviewer and Approver (RRA).
Prior to joining Preferred by Nature, Raphael worked for the Rainforest Alliance certification unit, RA-Cert since 2011. He studied BSc in Agricultural Production Mechanisation Engineering at the University of Ciego de Avila-Cuba.
Raphael joined Preferred by Nature in October 2019.  
Skills at a glance
RA SAS Farm and Group auditing

RA SAS CoC auditing

UTZ and UTZ ChoC auditing

RA SAS/CoC Report Reviewer and Approver (RRA)

BSc in Agricultural Production Mechanisation Engineering

Languages spoken: English, Spanish, Kiswahili and Kalenjin (local dialect)