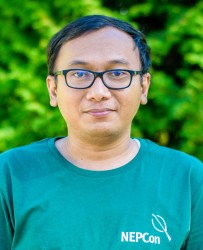 Randy Perdana
rperdana@preferredbynature.org
+62 3614723499
+62 81916177046
randyperdana
Randy is responsible for FSC Chain of Custody audit process in the Asia Pacific region. He has vast auditing experience in Southeast Asia, China, Taiwan and Japan.
I'm happy to work together with companies to ensure their FSC supply chain system in place and at the same time, to provide expert advice to ensure they understand FSC requirements. I believe Preferred by Nature has a similar path and together we can meet our current needs for forest products without compromising the health of the world's forest in the future.
Randy is also the FSC trademark agent whose job responsibilities include reviewing and approving FSC COC trademark for FSC Forestry clients in the Asia region, for submission.
Randy joined the certification division of Rainforest Alliance, RA-Cert in 2011. During that time, he learned about FSC trademark and became a trademark agent for the FSC Chain of Custody team. He took on the role of FSC Chain of Custody Lead Auditor around 2012.
He studied Mathematics Statistic at Udayana University in Bali, Indonesia. 
Randy joined Preferred by Nature in 2018.
Skills at a glance
FSC Chain of Custody auditing

FSC Chain of Custody Report Reviewer (RRA Reviewer)

FSC Trademark Agent

Languages spoken: English, Bahasa Indonesia, Balinese