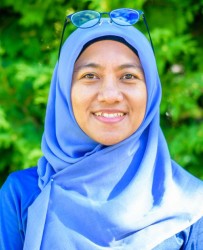 Laura Flowrensia (Flo)
Responsible Sourcing Specialist
lflowrensia@preferredbynature.org
@rflowrensia
Flo is responsible for conducting risk analysis and providing technical support for bespoke services to clients, in legitimate sourcing and responsible supply chain. This includes performing assessments related to sustainable practices.
Preferred by Nature's great mission has inspired and energised me to work for this organisation.
Flo is also a specialist in timber legality. She is also responsible for Preferred by Nature's LegalSource services. 
Flo studied tropical silviculture at the Bogor Agriculture University, with a focus on forest entomology correlated with Falcataria plantations, as one of the fast-growing species in Java, Indonesia. She has passed Preferred by Nature FSC Forest Management Expert Course and completed training as a Rainforest Alliance Sustainable Agriculture Standard Lead Auditor. She has experienced in assessments for palm oil as well as certification audits for tea, rubber, cocoa, and forestry. 

Flo joined Preferred by Nature in 2018.  
Skills at a glance
Administrative, financial, and technical support for Preferred by Nature Solutions works 

Verification assessment on company commitment 

RA-SAS & FSC FM auditing 

MSc Tropical Silviculture 

Languages spoken: Bahasa Indonesia and English