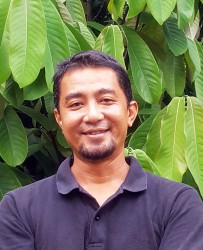 Iwan Kurniawan
Senior Agriculture Specialist
ikurniawan@preferredbynature.org
+62 8129 449 285
oneocim
Iwan is responsible for the coordination and oversight of the implementation of Preferred by Nature agriculture auditing services in the Asia-Pacific region.
Certification is an iterative process, taking producers on a long-haul journey to continually improve practices. Working with Preferred by Nature, for me, is a chance to participate in the implementation of certification especially for agriculture to reach better livelihood and environment.
Iwan oversees the development and implementation of agriculture audits in the Asia-Pacific Region. He ensures efficiency, quality control and adherence to appropriate agriculture technical and administration certification protocols. He also serves as a lead auditor on selected audits, incorporating and evaluating trainee auditors.
Iwan began his career in ICRAF and CIFOR in 1999 in the field of GIS, Remote Sensing, and spatial modelling. He has experiences on ESIA, HCV, forestry business legality, voluntary carbon trading, and conflict resolution in Indonesia. He received training for Rainforest Alliance Certification in early 2010 and has been conducting audits since then for tea, coffee, cocoa, coconut, pineapple, clove, chilli pepper, abaca, and palm oil in Southeast Asia and Pacific. He is also an auditor for POIG verification.
Iwan joined Preferred by Nature in 2019.
Skills at a glance
Rainforest Alliance Sustainable Agriculture Standard auditing

Palm Oil Innovation Group (POIG) auditing

Languages spoken: Indonesian and English