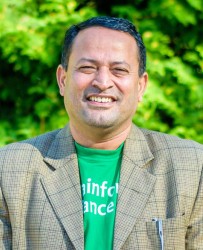 Indu Bikal Sapkota
Senior Forestry Manager, Asia Pacific
isapkota@preferredbynature.org
+62 361 4723499
+62 811 3859 400
indubikalsapkota
Indu is responsible for implementing and managing overall aspects of certification and verification strategic plan in the region, providing lead on administrative and technical projects management and monitoring certification and verification jobs.
When I was working in the Rainforest Alliance, I have already met with many Preferred by Nature colleagues, and we also completed some collaborative projects together, such as piloting ecosystem services initiative in Nepal and developed joint proposal for Indonesia FSC standards testing and many more. I am highly impressed with Preferred by Nature colleagues, and the works Preferred by Naturehas been doing on sustainability fronts, so I am very happy to have the privilege to work with Preferred by Nature.
He is also responsible for developing new projects within the region. Indu serves as representative with stakeholders including governments, donors, industry, partners, community organisations, and NGOs in the region.
Indu Bikal Sapkota is our Certification Manager in the Asia Pacific and is based in the regional office at Bali, Indonesia. He is responsible for the management of the region including coordinating certification client portfolios and servicing present and prospective clients in all matters related to FSC, RA/SAS certification and other verification programmes and services such as carbon and timber legality.  He is the climate and forestry focal person in the Asia Pacific region.
Indu holds an international Master's degree (with the top score in MSc in Tropical Forestry) from Wageningen University, the Netherlands, and has also earned a BSc in Forestry with a distinction from Tribhuvan University, Nepal. Prior to joining Rainforest Alliance in 2009, Indu spent over 10 years working in the forestry industry, non-timber forest products (NTFPs), and conservation in Asia and Europe, including international organizations such as WWF and ANSAB.
Skills at a glance
FSC and RA SAS (FSC FM lead auditor)

FSC FM regional point of contact/expertise

Training and facilitation  

MSc in Tropical Forestry (Wageningen University and Research Centre)

Language spoken: English