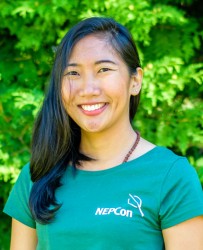 Gusti Ayu Fransiska Dewi (Siska)
Responsible Sourcing Specialist
fdewi@preferredbynature.org
Siska is responsible for managing sustainability projects across agriculture and forestry sectors, including wood pulp for viscose in the textile industry. In this role, she provides technical support in conducting a risk analysis, project management, policy development and verification for sustainability issues in the supply chain.     
I believe the power of collective work to make this world a better place. Through Preferred by Nature, I want to contribute to achieving a goal to save the future of our people and planet in any way we can. Preferred by Nature is not only an impact-minded organisation but also a home where we are all family who lives for the vision.
She is also an auditor for the Rainforest Alliance Sustainable Agriculture Standard, LegalSource, Palm Oil Innovation Group and CanopyStyle Initiative.  
She has done extensive work in climate change adaptation and mitigation, including the application of Climate-smart agriculture. Siska has a strong interest in climate change issues and work.
Siska has written policy briefs for the United Nations Global Sustainable Development Reports. She loves working with smallholders and indigenous people. 
Skills at a glance
BSc in Agriculture

MSc in Agricultural Biotechnology

MPS in Environmental and Community Land Planning 

Languages spoken:

Indonesian,

English, Basic Dutch