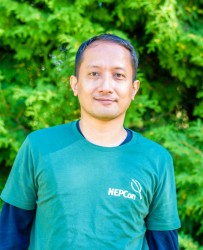 Diantur Jatmiko
Responsible Sourcing Specialist
djatmiko@preferredbynature.org
+62 361 4723499
+62 85716628811
miko_kgw
Miko is responsible for providing support for business development of Preferred by Nature Solutions in Indonesia that includes management, strategy, budgeting and stakeholder relations, with a main focus in the palm oil industry.
Working for a green organisation that values nature, people and economy as one is in line with the principles of my life. Together with Preferred by Nature, I can add a token of my principle to make the earth a better place to live for future generations.
Miko handles clients' palm oil-related activities in the form of verifications, training, analysis and consultations, to assist clients in meeting their sustainability policies.
He holds a Bachelor of Science from Indiana University South Bend, the United States and a Master of Business Administration from Loyola University Chicago, United States. Before joining Preferred by Nature, Miko worked in an oil palm company for seven years in West Kalimantan, Indonesia, where he oversaw the development of plantations and mills.
Subsequently, he worked at an international consulting company, where he developed an independent assessment tool to trace palm oil supply chain to the mill, to ensure deforestation-free at the plantations in accordance with No Deforestation, Peat and Exploitation (NDPE) policy.
He also participated in verifications and audits related to Agriculture.
Miko joined Preferred by Nature in October 2018.
Skills at a glance
Develop Key Performance Indicators (KPIs) for palm oil self-assessment

Palm oil verification and audit based on company's sustainability policy

Palm oil supply chain risk assessment and auditing

Palm Oil Innovation Group (POIG) auditing

Rainforest Alliance Sustainable Agriculture Standard (RA SAS) auditing 

Languages spoken: Bahasa Indonesia and English