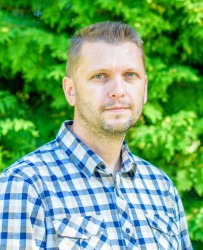 Alexandru Orban
Country Manager - Romania, FSC-FM/CoC, LegalSource Auditor
Alex is our Romanian and Hungarian contact with significant experience in FSC audits.
Alex is Preferred by Nature representative in Romania and Hungary. His tasks include coordination of the certification activities, auditing, marketing/promotion activities and project development.  
He has been working as the auditor for different international certification bodies and has also gained significant experience as an independent consultant as well as quality manager. 
Alex holds a Bachelor's degree in Chemical Engineering and a Master's degree in Eco-Management. He has passed the related Preferred by Nature Lead Auditor courses. 
Alex joined Preferred by Nature in 2014.
Skills at a glance
FSC/CW Forest Management and Chain of Custody auditing
LegalSource / Due Diligence / Supply Chain auditing
Consultancy in management systems
Risk assessment in forestry
MSc in Eco-Management
Languages spoken: Romanian, Hungarian, English