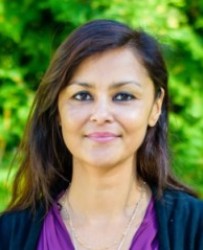 Sandra Razanamandranto
Regional Director, Africa
srazanamandranto@preferredbynature.org
+ 233 233 00 88 13
Sandra.razanamandranto
Sandra manages the certification activities in Africa, both in agriculture and forestry. 
Working with an organisation that has such a significant impact in the world is very rewarding and motivating for me. In addition, I would be more than happy to increase my knowledge and experience in benefiting from Preferred by Nature's expertise, especially in Sustainable Forest Management, Timber Legality and Sustainable Sourcing in general.
Prior to joining Preferred by Nature, Sandra worked as Africa Regional Director of Rainforest Alliance certification unit, RA-Cert based in Accra, Ghana. With over 10 years' experience in the private sector, Sandra guides forestry and agricultural industries to international FSC certification, RSPO and ISO 14 001.  
She developed and implemented it within companies. Sandra conducted internal audits, and worked with civil society, government institutions, independent producers and participated in the development of their external communications strategies.  
Sandra was also actively involved in the drafting of national standards FSC and RSPO and was part of an early forest certification training programme in Africa.  
She joined Preferred by Nature in 2018.  
Skills at a glance
FSC

FM

and

RA SAS auditor in training

 

 

MSc

i

n Environmental Engineering

 

Languages spoken:

French

and English