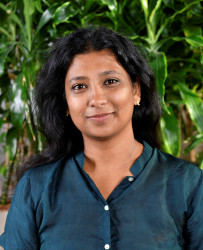 Aneeka Malik
Senior Specialist, Supply Chains
amalik@preferredbynature.org
+49 (152) 246-19592
aneeka_lorien_1
Aneeka provides client management and auditing services to a subset of complex controlled wood, multisite and dual chain-of-custody certificate holders in Canada and the US.
Traceability is a practical tool that can transform the management of forests and farms. It is empowering to be part of an organization working collectively to achieve the huge ambition of sustainably managed resources.
Aneeka is a FSC, PEFC, SFI and SAN CoC Lead Auditor. She has run FSC CoC Lead Auditor Training Courses in Canada.
She brings with her seven years of experience with FSC and SAN certification at the Rainforest Alliance. Prior to this, she worked on carbon credit projects in forestry in Toronto (ICLEI) and Denmark (UNEP internship).
Aneeka began her career as a journalist for a non-governmental organisation (SEHD) in Bangladesh. In this role, she travelled extensively researching and writing about local forestry issues, which sparked her interest in the intersection between forestry, industry and people.
She holds a Master's degree in Forest Conservation and a Bachelor's degree in Environmental Science from the University of Toronto.
Aneeka joined Preferred by Nature in 2018.
Skills at a glance
FSC, PEFC, SFI and SAN Chain of Custody Auditor

Trainer

Master of Forest Conservation

BSc in Environmental Science

Languages spoken: English, Bengali and Basic German