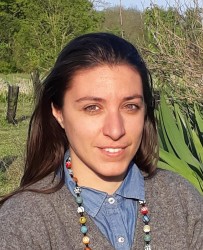 Chloé Viala
Responsible Sourcing Specialist
cviala@preferredbynature.org
Chloe064
Chloé provides advisory services to a global portfolio of clients in the timber sector and beyond to support them in sourcing legal and responsible wood sources. This includes delivering risk assessment and mitigation activities, to meet the EU Timber Regulation (EUTR) and sustainability criteria
Protecting forests and the climate is a crucial challenge that requires common and coordinated efforts. I particularly enjoy encouraging change through enhancing capacity, understanding and commitment within the international timber trade sector.
Chloé provides timber legality and sustainability advice and support for due diligence and supply chain risk assessment. She also facilitates training and capacity-building activities.
She began her career by monitoring a project at the forest management level in Côte d'Ivoire. She has worked with forest government agencies, private concession-holders, local communities and NGOs to foster stronger compliance with legal and technical norms. Chloe has experience providing relevant stakeholders with in-depth analysis, remediation action proposals as well as training and capacity-building. She has been involved in drafting various timber related regulations and policies.
Chloé studied Political Science and Law at Sciences Po Paris, where she focused on International Environmental Law, public policies and cooperation.
Chloé joined Preferred by Nature in 2019.
Skills at a glance
Due diligence systems, risk assessments and supply chain verification and management

Timber legality: EUTR & LegalSource assessor

ResponsibleSource assessor

Tropical forest management

Forest-related national and international policies (EU-FLEGT programme)

MA International Public Management

Countries worked in: France, Côte d'Ivoire, Austria, Congo, India

Languages: French, English, Spanish