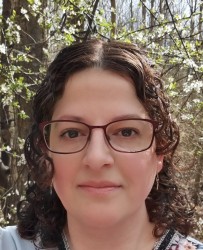 Pernille Hvid Pedersen
Administrative Coordinator & Trademark Agent
phvidpedersen@preferredbynature.org
+45 53638223
Pernille works as a translator and trademark agent, and she is involved in various tasks supporting our office in Denmark and assisting colleagues across our organisation
Working with an organisation where sustainable land use and human rights are at the center is a privilege, and I feel fortunate to be a part of Preferred by Nature, where I can make a small contribution towards a better, more sustainable world.
One of Pernille's main tasks consists of translating templates, procedures, agreements and client emails. She is also responsible for updating our website including the translation of project descriptions, news, infosheets etc. 
Pernille's role also consists of reviewing and approving FSC trademark use for clients in Denmark, Norway, Sweden, Finland, Italy, Ireland and United Kingdom.
Pernille has an educational background in Arabic and religion, and holds a Master's degree in Islamic Studies, Minority Studies and History of Religion, where she primarily focused on women's rights and minorities.
Pernille joined Preferred by Nature in January 2022
Skills at a glance
Translation skills
FSC Trademark Agent
B.A. in Arabic and Religion
M.A. in Islamic Studies, Minority Studies and History of Religion
Website maintenance
Languages spoken: English and Danish, intermediate French and Arabic