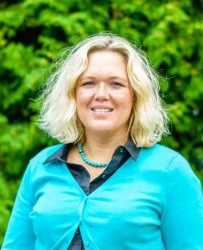 Katie Miller
Project Development Manager
kmiller@preferredbynature.org
+45 3155 2536
katie.j.miller1
Katie Miller leads our development efforts for international project activities.
It is such a rewarding challenge to work with funders from around the globe to implement projects that meet their own environmental goals, while also achieving Preferred by Nature's mission of mainstreaming sustainability. At the same time, it is exciting to be able to use my general background in non-profit management to help Preferred by Nature to develop our most important organisation resource - our people.
Katie is in charge of managing our development efforts for our growing project portfolio, which includes funding from foundations, the European Commission, DANIDA, DFID, and other government entities, as well as from participation in tenders. 
With more than 17 years' experience in the non-profit sector, including the last 13 years working in the area of environment and forest certification, Katie is well versed within the areas of fundraising and communications, as well as general non-profit organisation management. 
Katie holds a MPA in Non-profit Management. She has also passed Preferred by Nature's FSC lead auditor training course as well as Preferred by Nature's expert courses in Carbon Footprint Management and LegalSource.
She joined Preferred by Nature in 2010.
Skills at a glance
Implementing HR functions across the organisation, including recruiting, staff development, and approaches to optimal organisational structure.
Understanding donor landscapes in order to develop resources for planned projects
Fundraising proposal development, including using a Logical Framework Approach (LFA)
Networking and outreach to partners and donors
Event facilitation and management
With a MPA in Nonprofit Management, Katie is specialised to also work with the internal management of nonprofit organisations, such as strategic planning and working with the Board of Directors
Languages: English and intermediate Danish