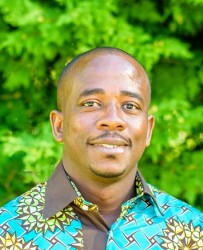 Kouadio Kan Georges Kouassi
gkouassi@preferredbynature.org
+2250 5062 85257
+2250 7495 55199
geokouassi
Georges is responsible for the overall legal entity operation in Cote d'Ivoire including operationalising Preferred by Nature processes and activities within the country-specific legislative and business environment. He liaises with local advisors to establish and maintain legal and fiscal compliance.
I am driven by Preferred by Nature's vision of reaching a world where human choice ensures a sustainable future. I, therefore, believe that Preferred by Nation is an organisation that deserves an increased expansion in the agricultural sector in my country and all others and it is with enthusiasm that I intend to contribute to the realisation of this vision, especially among the supply chain actors.
As the legal entity manager, Georges oversees Preferred by Nature support staff activities to ensure organisational effectiveness and efficiency. He also acts as Preferred by Nature's legal representative for our legal entity in Cote d'Ivoire.
Georges is also our business development representative in the country where he is tasked with Preferred by Nature's business development, sales and marketing activities. He is responsible for the development and maintenance of our engagement with various parties in Cote d'Ivoire. Besides that, he also serves as an agriculture auditor whereby he schedules and carries out agriculture audits.
Georges has a Master's Degree in Science and Environmental Management, majoring in Science and Technology of Water. He also has a Postgraduate Diploma in Geography, majoring in Environment.
Georges has more than 12 years of experience with Sustainable Agriculture Standard in Africa and Turkey on the following commodities: coffee, vanilla, tea, banana, spices and rubber. He has conducted training in standards and certification policy of Rainforest Alliance since 2006 in Cote d'Ivoire, Kenya, Ghana, United States and Latvia.
Georges has contributed to projects, as part of the assessment mission of certification in Côte d'Ivoire, initiated by the national cocoa board in 2011 and on the evolution of costs, advantages and disadvantages of cocoa certification, initiated by the ICCO in 2012. He has also contributed to pilot phase of new Standard eEaluation and Local Interpretation Guidance.
Prior to joining Preferred by Nature, Georges was the point of contact for the Rainforest Alliance business unit, RA-Cert. He was engaged as an auditor for RA-Cert in Africa until 2016. In that role, he was the lead auditor for Rainforest Alliance farm/group and Chain of Custody, UTZ and Fair Trade USA.
Georges Kouassi joined Preferred by Nature in July 2019.
Skills at a glance
RA SAS, UTZ and Fair Trade USA, Farm/Group and CoC auditing

RA SAS and UTZ technical support/expertise 

Master in Science and Environmental Management

Languages spoken: French and English