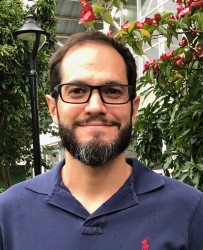 Rodolfo Gurdián Portocarrero
Quality Monitoring Specialist, Agriculture
rgurdian@preferredbynature.org
+506 7004-4604
rodogurdian
As the Quality Monitoring Specialist in our Agriculture team, Rodolfo supports the programme manager as a technical expert for all farm certification services and technical leads. 
Working for Preferred by Nature not only enables me to share knowledge and experiences but also to learn from those involved in agricultural activities, through a worldwide organisation that promotes sustainable livelihoods.
Rodolfo has a Master's Degree in Agribusiness Management. He is an experienced agronomist engineer. Prior to joining Preferred by Nature, he worked as an independent auditor for the Sustainable Agriculture Programmes in the Rainforest Alliance for more than 10 years.
He has extensive experience and in-depth knowledge of tropical crops in Central and South America, as well as the Caribbean.
Previously, he had provided technical input for the development of certification standards interpretation and their audit process implementation. Besides that, he was also a consultant to ensure quality control in the creation of global reports and audit processes.
He has rich experiences in food-agri industry. Rodolfo worked as a coffee trader for three (3) years.
Rodolfo's responsibilities as the Quality Monitoring Specialist in our Agriculture team include standard and policy interpretation, quality monitoring, and development of policies and procedures, templates and guidance materials, among others. 
He has been part of the Preferred by Nature team since October 2019.
Skills at a glance
RA SAS auditor: Farm & Group CoC, cattle production, climate change.

Agriculture background with full experience in coffee, cocoa, banana and pineapple.

Rich experiences in food-agri industry

Agriculture technical assistance

Languages spoken: Spanish and English.