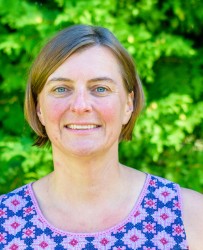 Susanna Lehmann
slehmann@preferredbynature.org
+1-613-868-7387
+1-613-868-7387
Susanna is part of our global operations team, focusing on the development and implementation of financial and human resources processes.
As an operations generalist, I enjoy wearing multiple hats and acting as an interface between program staff and support teams. I am happy to be supporting a team of professionals that are dedicated to increasing sustainability and helping companies and organizations to improve their practices. Building and applying robust internal systems and processes that follow the same guiding principles is a rewarding way to work towards our shared vision, a world where human choices ensure a sustainable future.
Susanna provides a wide range of operational support across the organisation. As part of Preferred by Nature finance and accounting team, she supports the development and implementation of key business processes. In addition, Susanna takes an active role in human resource management by directly supporting staff and managers in the US and Canada region. She also develops global policies and processes.
Susanna studied Economics and Business Management at the Westphalian University of Applied Sciences in Germany, with a minor in Tourism Management. She immigrated to Western Canada where she worked with several nature and adventure-based tourism businesses. Prior to joining Preferred by Nature, Susanna worked for the Rainforest Alliance as Operations Associate for Canada in 2009, based in the Gatineau Hills near Ottawa.
Susanna joined Preferred by Nature in 2018. 
Skills at a glance
Finance/Accounting

Human Resource Management

Bachelor's degree in Economics and Business Management, minor in Tourism Management

Languages spoken: English and German