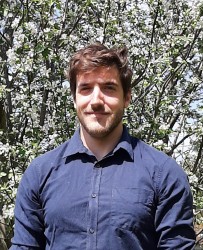 Olivier Massicotte-Dagenais
omassicotte@preferredbynature.org
418-564-3082
As a Forestry Specialist in Preferred by Nature, Olivier oversees the Forest Stewardship CouncilTM (FSCTM) Forest Management certification activities for a portfolio of clients in Quebec, Canada. 
The exploitation of natural resources, mainly the forest, in a vision of sustainable development is essential to maintain a quality of life for future generations. I am very happy to be able to support forest industries that want to implement forest management and social harmonisation practices that make a difference in their communities. Preferred by Nature allows me to get involved in the responsible use of the land and in forestry that respects environmental values. 
Olivier is an auditor-in-training for the FSC Forest Management certification. He is involved in the entire audit scope, from pre-assessment to assessment, as well as annual audits. Olivier's work includes customer service, audit scheduling and budgeting, management of the audit team along with report writing and reviewing. 
Olivier has been part of Preferred by Nature since 2021.