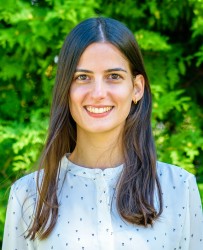 Maria Arrevillaga
Senior Programme Manager Agriculture Supply Chains
marrevillaga@preferredbynature.org
+1 (289) 681 - 7042
Arrevillaga.lleras
Maria is responsible for supporting the continuous development and improvement of the Preferred by Nature Agriculture Supply Chain programmes.  
Sustainability standards and independent certification have the potential to deliver impact beyond individual supply chains. They can help to facilitate dialogue between multiple stakeholders and support changes leading to more responsible land use. I enjoy working with businesses and partners that strive to positively impact their supply chain to increase biodiversity, protect natural resources and support communities.
Maria is a Senior Programme Manager Agriculture Supply Chains. In this role, Maria oversees accreditation processes, audit management and monitoring of Preferred by Nature's global portfolio to ensure consistent implementation of applicable policies and procedures and timely follow-through on disputes and stakeholder feedback. She is also a lead auditor for internal quality monitoring and various certification and verification schemes.
Before joining Preferred by Nature, Maria worked on forestry research projects. She planned and conducted field investigations involving forest productivity, light use efficiency and pest/disease control of forest plantations in Argentina, Brazil and Venezuela. In 2018, Maria completed the ISO 9011:2011 Lead Auditor training and began working as a Forest Stewardship CouncilTM (FSCTM) Chain of Custody, Roundtable on Sustainable Palm Oil (RSPO) Supply Chain Certification and Rainforest Alliance Supply Chain auditor.  
Maria joined Preferred by Nature in 2018.
Skills at a glance
RA SAS and RSPO Supply Chain technical expertise

RA SAS SC, RSPO SCC and SRP CoC auditing

FSC Chain of Custody and Controlled Wood auditing 

MSc in Forestry Sciences 

BSc in Forest Engineering 

Proficient in English, Spanish and Portuguese