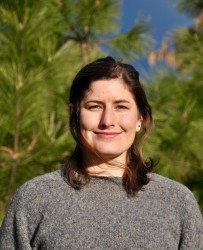 Brittany King
bking@preferredbynature.org
bking@nepcon.org
Brittany manages a portfolio of clients in Western US and Canada that works with the FSC/PEFC Chain of Custody, FSC Controlled Wood and FSC Forest Management Standards.
I enjoy working with an organization that supports the sustainable and viable management practices of our forest, land and agricultural resources. My work is fuelled by an interest in how we can create better strategies to adapt and relate to our social and environmental systems.
She has a background in Forestry and Conservation Sciences, holding a science degree from the University of British Columbia (UBC) and over five years of work experience in land management, agriculture and forestry.
Prior to joining Preferred by Nature, she worked with the federal government in Washington State and British Columbia and for non-profit and forest consulting companies in and around the Pacific Northwest. She is based in Kelowna, BC.
Brittany joined Preferred by Nature in October 2018. 
Skills at a glance
FSC CoC Lead Auditor

Science degree from the University of British Columbia