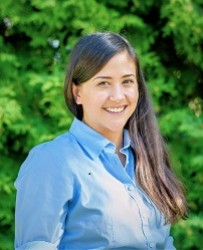 Anna Luz
Coordinator, Supply Chains
aluz@nepcon.org
+1 514 516 4649
Anna is a Supply Chains Coordinator managing and conducting FSC Chain of Custody audits in Canada.
Anna previously worked at Rainforest Alliance as a Chain of Custody Coordinator in the Canada region. Before that, she worked as a Research Technician in a Forest Conservation and Land Use Management research laboratory at McGill University. She has a Bachelor's degree in Geography and Biology from McGill University. 
Anna joined NEPCon in 2018
I enjoy supporting a wide range of socially and environmentally responsible companies, using the tools and frameworks of certification, to ensure that a diversity of products originating from sustainably managed forests are available to consumers. 
Skills at a glance
FSC Chain of Custody lead auditing 
BSc in Geography and Biology 
GIS mapping and analysis 
Languages spoken: English and French