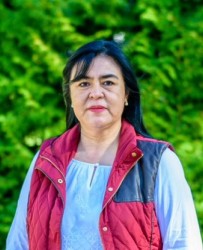 Mariela Monje
Coordinator, Certification Support
mmonje@preferredbynature.org
591-3-3325042
591-76313555
mariela.monje10
Mariela is responsible for several administrative certification duties. She also provides support for FSC, Agriculture and Tourism tasks in South America.
I enjoy working in an organisation like Preferred by Nature. I feel that I am contributing to a common goal that is committed in preserving natural resources and contributing towards achieving a positive social impact.
Her other duties include:
Maintaining certification database

Ensuring a smooth exchange of information between clients and auditors on issues related to Chain of Custody and Forest management audits

Making logistical arrangements to support audit activities

Preparing invoice and tracking client payments

Providing support to Agriculture and Tourism services
Mariela has Sociology degree. As part of her academic training, Mariela has conducted a research on social issues. She started working at Rainforest Alliance in November 2010.
Maricela joined Preferred by Nature in 2018.
Skills at a glance
FSC certification administration

Client and partners communications

Administrative Support for Agriculture and Tourism services

Languages spoken: Spanish and English