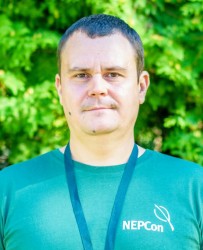 Viktar Mikhalkevich
vmikhalkevich@preferredbynature.org
+375 29 337 20 71
victorforestby
Viktar works as Certification Manager in Belarus.
I believe my work helps create a greener and a fairer planet.
Viktar graduated from the Belarusian State Technological University (in specialty Forest Engineering). After graduating, he worked as an Engineer in the quality department for a private company producing products out of round wood. Working with FSC and the Chain of Custody system was also part of his responsibility in the company. 
From 2008 to 2010, he worked at the OJSC "Belarusian Universal Commodity Exchange" as a specialist in trading of standing timber. He joined the group "Bellesbumprom" in 2010 and started working at the department of Forest Resources and Timber Transport.  
Skills at a glance
Promoting FSC certification and Preferred by Nature services in Belarus
Support and work with existing clients
Office manager tasks
Expertise in ENPI FLEG Programs (FLEG II)