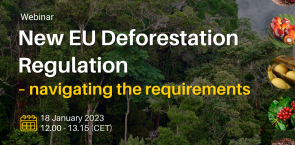 Venue
Teams (link will be provided in email prior to webinar)
Start Date
Wed, 18 Jan 2023
End Date
Wed, 18 Jan 2023
On 6 December 2022, the EU reached agreement on a new law to prevent companies from placing commodities linked to deforestation and forest degradation onto the EU market, or exporting them from the EU. The law has included seven basic commodities within the scope of the EU regulation: soy, cattle, palm oil, wood, cocoa, coffee and rubber. It also covers various derived products such as leather, chocolate, charcoal, furniture and paper. 
Sign up for our upcoming free webinar to gain a clearer insight into the key elements and requirements of the EUDR. Aside from introducing the regulation, the session will explore other elements, such as the due diligence obligation placed on operators & traders, and how checks and enforcements will be carried out under this new EU regulation. 
The webinar is set to take place on 18 January 2023 from 12.00 – 13.15 CET via Teams Webinar. 
IMPODRTANT: an email with the link to the webinar has been sent to everyone who signed up on Tuesday 17/1 at 10.00am CET. Please check your spam folder if you have not received the email and/or contact Julie Thirsgaard Hansen (jhansen@preferredbynature.org). 
Please register below to secure your spot. Due to limited availability, registrations are handled on a first-come, first-served policy. If you have any questions, please contact Julie Thirsgaard Hansen (jhansen@preferredbynature.org).
AGENDA
Time
Programme
11.50 - 12.00
Sign in to Teams
12.00 - 12.45

Introduction to the approved regulation
Prohibition and due diligence obligations on companies
Checks and enforcement

12.45 - 13.15

Q&A
>> Click here to learn more about the EUDR. 
This webinar is the first of a series of webinars Preferred by Nature will be hosting to support companies and stakeholders in getting a better understanding on the EUDR requirements. Stay tuned on our events for the subsequent sessions or leave your details here and we will send you an update once the webinars are open for registration. 
This webinar has received support from the LIFE Legal Wood project implemented by Preferred by Nature and partners. The LIFE Legal Wood project is funded by the European Union's LIFE programme.