Venue
Nusantara 3, Westin Hotel, Nusa Dua, Bali
Start Date
Fri, 14 Oct 2022
End Date
Fri, 14 Oct 2022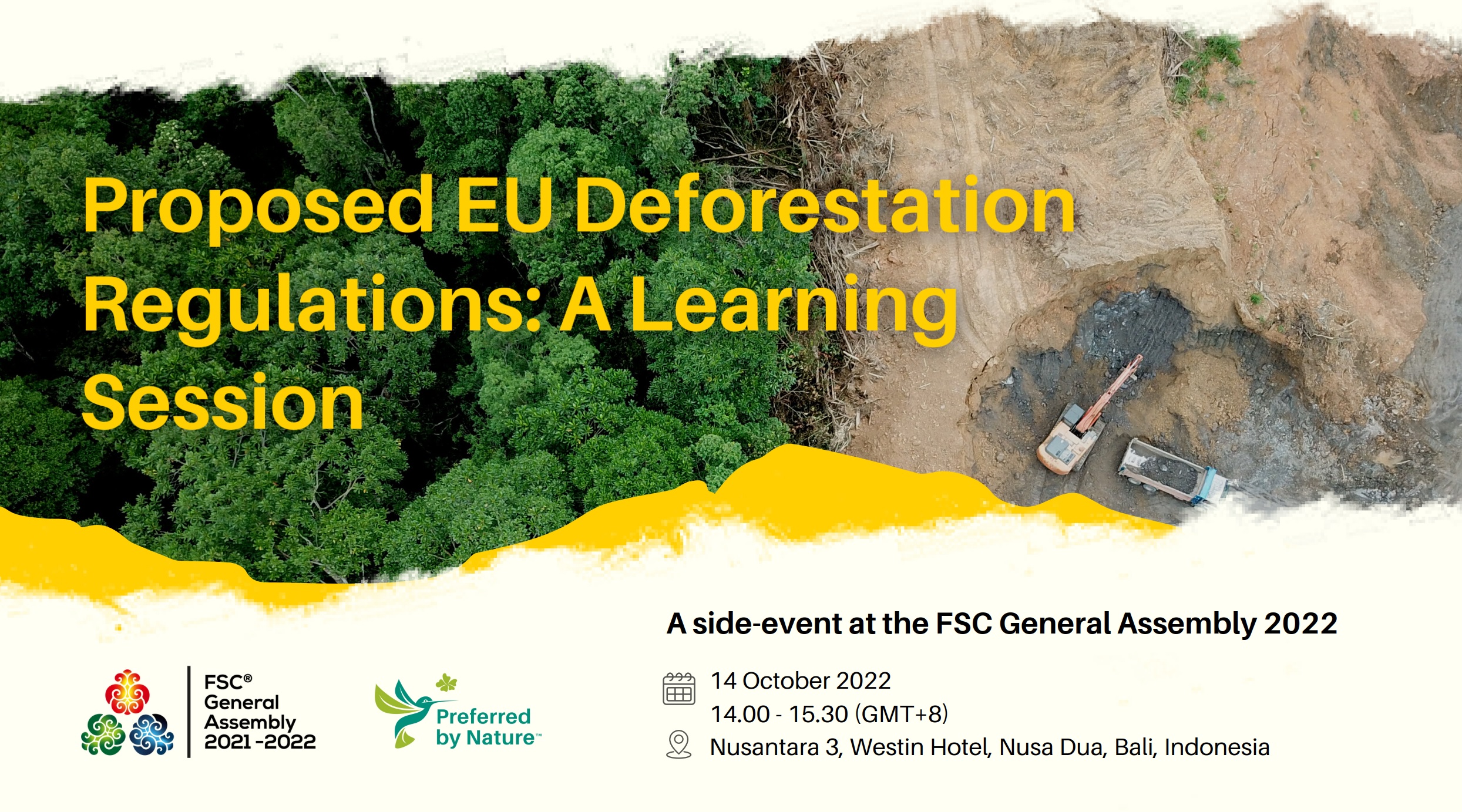 As part of the Forest Stewardship CouncilTM (FSCTM) General Assembly 2022, Preferred by Nature is organising an informative session where we will be sharing important details about the EU Proposals for a regulation on deforestation-free products (EUDR) and a directive on Corporate Sustainability Due Diligence (EUCSDDD).
The session will provide:
an outline of the upcoming EUDR and the EUCSDDD
indications of how FSC aligns with these regulations
insights from key stakeholders as to the implications and opportunities the regulations present
 
Aside from these, representatives from FSC will also be sharing some of the ways the organisation is responding to these new regulations. The session will close with an open discussion via an interactive panel set-up.  
We invite interested attendees and stakeholders present at the Westin Hotel, Nusa Dua for the FSC General Assembly 2022 to join us on 14 October from 2.00 pm to 3.30 pm in the Nusantara 3 room of the hotel. 
The FSC General Assembly, traditionally held every three years, brings together leaders and decision makers from Indigenous Peoples, environmentalists, businesses and many others in FSC's membership to discuss a responsible future for the world's forests and the people and animals who inhabit them. 
For more information, visit the FSC General Assembly website.  
AGENDA
 Time
 Programme
14.00 - 14.30
EUDR overview and introduction to FSC certifications 
Presented by Preferred by Nature
14.30 - 14.45
How is FSC acting in response to the regulations?
Presented by FSC
14.45 - 15.30

Panel and open Q&A session