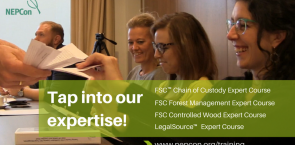 Venue
Mill City Museum: ADM Room
Location
Minneapolis (MN), United States
Do you need to better understand the EU Timber Regulation, Australian Illegal Logging Prohibition Act, or U.S. Lacey Act? Step up your efforts to source legal timber? Develop and implement a timber compliance policy for your company? Arm yourself with solid skills and knowledge by joining one of our three-day LegalSource Expert courses. 
This course is for you whether you are overseeing due diligence performance internally or externally or you simply wish to know more about due diligence in practice.
Learn how to:
Access information on your supply chains

Map your supply chains

Conduct risk assessments 
Select appropriate risk mitigation measures
Evaluate the efficiency of risk control actions
Evaluate and monitor due diligence performance
Course content
The training is based on our LegalSource Due Diligence System and includes a thorough introduction to all aspects of the system. In addition to gaining a good overview of key timber market regulations such as the EUTR, ILPA, and Lacey Act, you will learn key aspects of due diligence and how to implement it in practice. Each day consists of a blend of lectures and numerous practical exercises based on real-world scenarios and examples. Group exercises help to bring the theory to life and to create a social and enjoyable atmosphere. At the end of the training, you will have the option of taking an exam to test your understanding of the course materials.
This course is conducted in English language. Please ensure that your language skills will allow you to fully engage in presentations, group exercises, discussions and the examination. 
Who should attend?
The course is relevant for anyone who needs a comprehensive understanding of timber laws such as the Lacey Act, EUTR, ILPA, and related due diligence requirements. These typically include companies trading in wood or paper products, procurement agencies, consultants and NGOs working with forestry issues.
For our other Expert Courses, please take a look at our Training Calendar for 2020 or contact us at training@nepcon.org
Course fee and discount options
The cost of participating in this three-day LS training course is 1400 USD (i.e. early bird price, valid until 31st March, after that 1600 USD), excluding accommodation and taxes. The course fee covers tuition, training materials and meals (coffee breaks and lunches) during the course.
Discount options: We offer a special discount of 30% for NGOs, FSC National Initiatives, and university/college staff/students. 
Training venue
The course will be held in Mill City Museum, in the ADM meeting room. 
Register for this course
We look forward to receiving your registration for the course, please fill in the form below.
Please note: We are cautiously monitoring the situation of Corona virus. NEPCon has the right to cancel any scheduled event due to causes that are beyond our reasonable control, including public health and safety risk. In such cases, we will refund the registration fee. Please note that we do not refund any incidental or indirect costs of attendees.