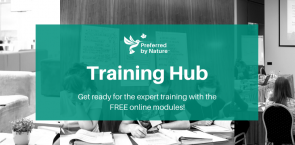 Venue
@Preferred by Nature Training Hub
Location
ONLINE (Eastern Standard Time) GMT-5
Start Date
Tue, 01 Mar 2022
End Date
Wed, 02 Mar 2022
This course is for you whether you are overseeing the implementation of the FSC Controlled Wood standard, or you simply wish to know more about FSC Controlled Wood certification and how Controlled Wood is sourced.
The course will be delivered over two full days in a virtual classroom, covering the FSC Controlled Wood standard FSC-STD-40-005 V3-1 and the FSC National Risk Assessments for the US and Canada. We deliver content through a combination of presentations and group exercises, placing a big emphasis on interactivity and discussions. Particularly during the exercises, we focus on practical implementation rather than theory to make the workshops as interesting and beneficial to participants as possible. Case studies will consider sourcing and supply chain risks, and mitigation measures in the US and Canadian context.
More specific information can be found on the course agenda. The live sessions will be held on the 1st and 2nd of March 2022 in Eastern Standard Time (GMT-5 ). The live sessions start at 8:45 AM and lasts 8 hours with adequate breaks. 
This workshop will be provided by Preferred by Nature's Controlled Wood experts and auditors in English language. Please ensure that your language skills will allow you to fully engage in presentations, group exercises and discussions.
For our other FSC Expert Courses, please take a look at our Training Calendar for 2022 or contact us at training@preferredbynature.org
Please note: this workshop course is not accredited as an official FSC Training Program for candidate auditors, and is not offered as such.
Course fee and discount options
The cost of participating in this two-day FSC CW workshop is 1000 USD, excluding VAT. 
Discount options: We offer a special discount of 30% for NGOs, FSC National Initiatives, and university/college staff/students. 
Register for this course
We look forward to receiving your registration for the course, please fill in the form below.


Please note: We are cautiously monitoring the situation of Corona virus. Preferred by Nature has the right to cancel any scheduled event due to causes that are beyond our reasonable control, including public health and safety risk. In such cases, we will refund the registration fee. Please note that we do not refund any incidental or indirect costs of attendees.