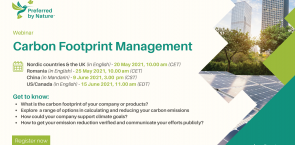 Venue
Zoom meeting (registration link is below)
Location
Online (EDT time zone)
Start Date
Tue, 15 Jun 2021
End Date
Tue, 15 Jun 2021
Preferred by Nature Carbon Footprint Management webinar 
Would you like to know what is the carbon footprint of your company or its products? Would your company like to reduce its carbon footprint, support climate protection? Would you like to become carbon neutral and present your efforts to your customers and the public? Join our webinars and find out the answers to these questions from our climate expert, who will present our solutions for carbon footprint management. 
All webinars are free of charge and take 1,5 hour. 
The webinars introduce to Preferred by Nature Carbon Footprint Management (CFM) standard and basic terms (carbon emissions, carbon footprint, measurement, reduction, offsetting) and different services Preferred by Nature offers to companies from CFM verification, Life Cycle Assessment, capacity building to tailored services. It explains the possible client journeys, ways of cooperation, and the CFM claims and labels the clients can use to publicly show their carbon footprint reduction efforts. Q&A session will be run by our climate experts.
This specific webinar will be held in English with the focus on US/Canada :
US/Canada (in English) 15 June 2021 with the start 11:00 AM (EDT),
Registration link: https://zoom.us/meeting/register/tJIqcumorT4vGtA2dJq-dYAnvPMLuak4V99K
If you have any questions, please contact Janice O'Brien (jobrien@preferredbynature.org).